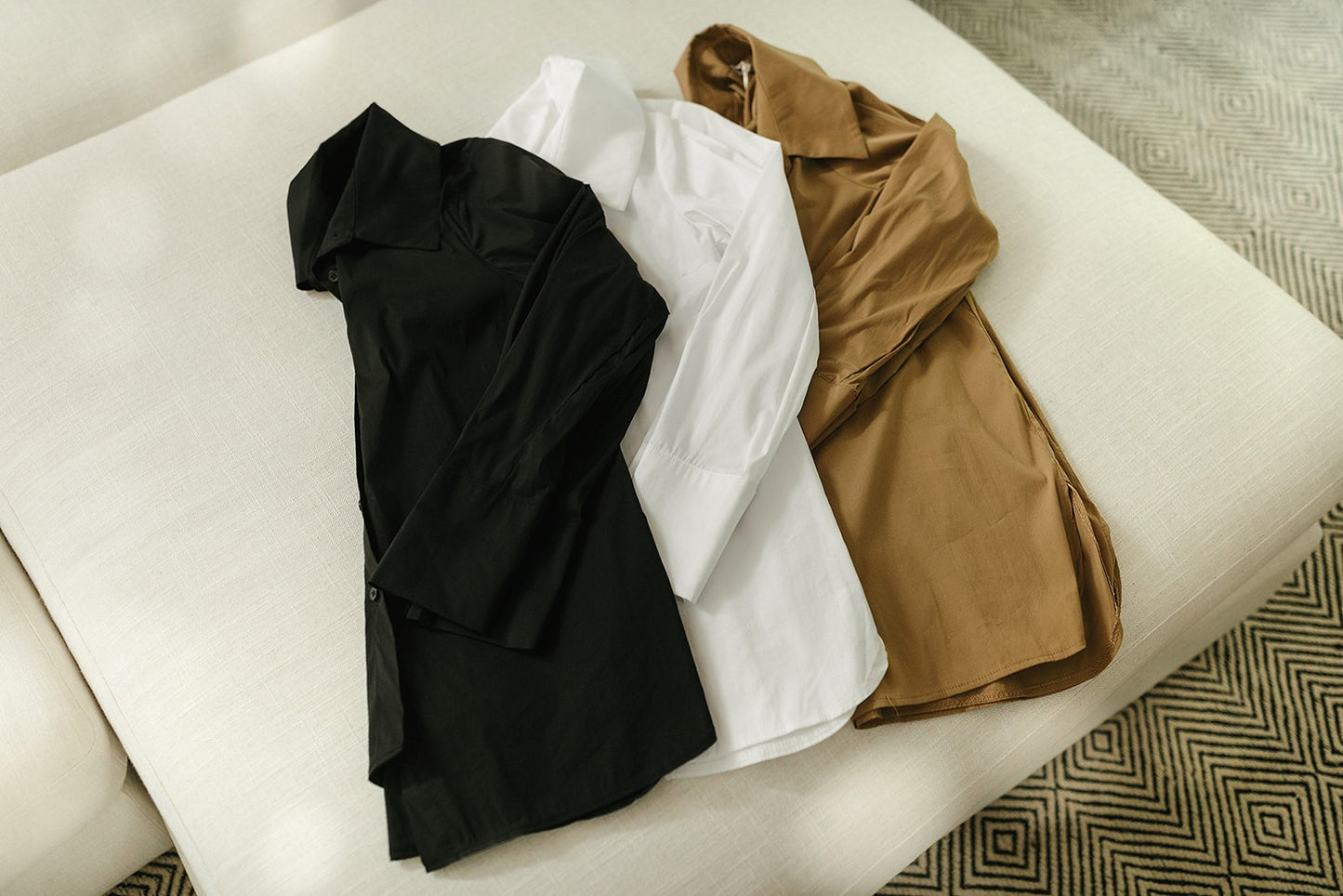 Five Closet Staples To Make Getting Dressed Easy
We've all heard of retail therapy - walking into your favorite store and bringing home new pieces to add to your ever-growing collection. However, we can sometimes find that our trendy new clothes may not match what we already have in our closet. Keep reading for some helpful tips in choosing staple pieces to add to your closet that will make matching and creating looks a breeze!
Classic White Button Up
A classic white top is an absolute must-have when it comes to closet staples. A basic like this can easily be dressed up or down, depending on the occasion and even your mood for the day. For something simple and chic, pair your white button up with a clean pair of black or blue denim, add your favorite flats, boots or heels and you are ready to go from day to night in a timeless look. Dress your top up by tucking it into a fitted skirt, or layer it under a dress or a vest for even more versatility.
Little Black Dress
A little black dress (or LBD for short) is a closet staple that will never go out of style, is easy to wear and can be paired with almost anything. Dresses in general serve an important role in your closet because with minimal effort, you can look fully put together and ready to take on the day - aka, the perfect option for those "I have nothing to wear'' moments. A LBD can stand alone or can be paired/layered with other tops, jackets, cardigans and any shoe. Keep it casual with your favorite sneaks and a denim jacket, or add some flare to your next wedding guest look with fun heels and bright jewelry. If you haven't already, grab a LBD next time you're out, your closet will thank you.
Outerwear/Layering Pieces
Sometimes, layering with the correct outerwear can be just what you need to complete a look and bring your whole outfit together. Here are some examples of cool weather essentials that you should have in your closet:
Sweater/Cardigan – A piece that's easy to throw on and works well in all seasons. Grab a classic cable knit to keep yourself warm in the colder seasons, layer this over your classic white button up for a timeless but trendy look. Add a lightweight, open knit sweater or cardigan to use during spring and summer as a bathing suit cover up or over your favorite sundress.
Blazer – Adding a blazer over a simple fit, is a quick and easy way to elevate your look. The blazer trend is back and there are so many ways to style and wear one to complement your taste as well as the outfit you have chosen for the day. Having a blazer in your closet opens up so many doors when it comes to choosing what to wear for the day, whether you keep it casual with denim and your white button up, or dress it up and wear it over your little black dress. The blazer is a closet staple that works effortlessly well with the other essentials you are gathering.
Coat/Jacket – Simple to wear, having a staple coat and/or jacket in your closet is a must. Depending on where you live, cooler months may bring the need for an extra layer - this can sometimes be difficult when trying to complete an outfit. When choosing a coat/jacket, a helpful tip is figuring out your body type/shape and finding what style flatters you best. Keep it simple and go with a neutral color such as black, tan or ivory; jackets can be dressy or more casual such as denim or leather. Mixing a couple different textures within your closet staples will help you immensely when choosing your outerwear.
Closet Staples at Snooty Patootie
If you feel that you struggle to put together a complete outfit that you are comfortable in, and that accentuates your personal style, we are here to help! At Snooty Patootie, we strive to offer an on trend, curated collection of both staple and statement pieces that will help bring your closet to life and make getting ready FUN. Our team is here to help and point you in the right direction when it comes to curating your own wardrobe, and finding your style. Finding closet staples that fit your lifestyle best will get you one step closer to being your own personal stylist.